As a student of
Ego Trip
, the magazine offered some of the best articles and topics of all time before their demise in the early 2000's…
One of their best contributions to the culture has, and is, The Ego Trip Big Book of Rap Lists…
Little known fact: I love lists…they piss people off, and are cause for never-ending, pointless, debates about shit that has NO effect on everyday life…FTW I say.
So if you dislike lists, skip this blog, cause I OD on them lol…
my first list is about the Top 5 Mixtapes I have enjoyed since the late 90's-thru the 2000's. Some for their sheer genius, some for the ignorance that reveled in disturbing the fundamental hip hop fan… and all of them for F-U-N factor they provided on those long-ass public transpo rides I used to take before I became a "getaway driver", word to Keak Da Sneak…
#1) Kanye West - "Get Well Soon"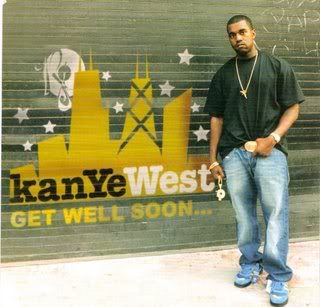 Back when this tape came out, you still had to actually BUY mixtapes…and Amoeba Music had the best selection in LA when it came to that (sorry fat beats)…
I copped this tape off the strength of "Through the Wire" and hearing the Blueprint and it provided countless hours of entertainment on those long RTD rides lol…
To me Kanye was his dopest when he was on his everyman, underdog steez…he had some corny lines at times, but he also said some ill shit, and you can tell he was a Fan, before he became the artist, at a time when all rappers acted like the last thing they did was listen to hip hop outside of their own music.
Highlights:
"Through The Wire the OG version", "Freestyle at Irving Center w/ Mos Def and Talib Kweli"
, and the first Appearance of
"The Good, Bad, and the Ugly ft Consequence"
——————————————————————————————-
#2) Strong Arm Steady - "The Collectors Edition"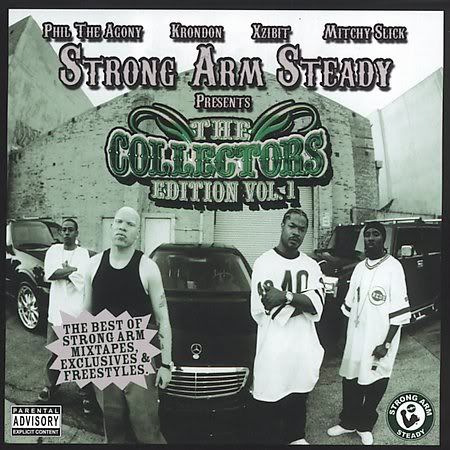 Ahhhh….you can't be a Los Angeles resident talking about mixtapes and not mention the Strong Arm Steady Gang…from the main members Phil the Agony, Mitchy Slick, Krondon, and Xzibit, to the extended Fam of Planet Asia, Chace Infinite, and Defari, these dudes made rappers "Get ya Bars up!"
The Dopest tapes to me personally was Ballers Edition with Corey Maggette hosting…also D-Bo Series vol. 1, True Crime: Streets of LA, and the Vapor8 edition, but this was the only d/l link I could find…oh well…if I feel like uploading those tapes at a later date, I will…lol…
Highlights:
"Krondon - A Million" "Mitchy Slick - Federal" "SAS - Shame (featuring Talib Kweli/Planet Asia/Chace Infinite)"
——————————————————————————————
#3) 50 Cent & G-Unit - "No Mercy, No Fear"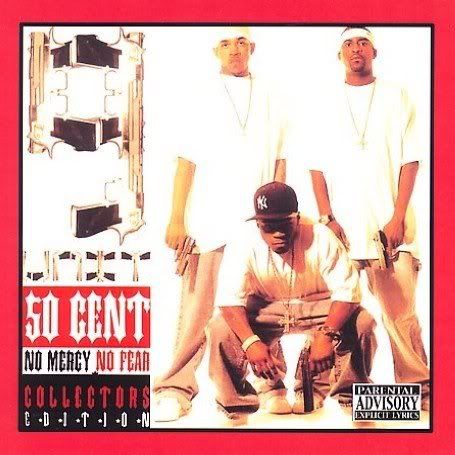 You CANNOT talk about mixtapes in the new millenium without talking about the man who took artist-helmed mixtapes to a whole new level…50 Cent.
yeah Cam and the Diplomats started it, but 50 was the one who realized how to utilize the mixtapes to start and further a career, and history explains the rest ha!
He had other tapes such as
Guess whos Back
and
50 Cent is the Future
…buuuut this is the one that put him on top of the Hip Hop landscape. Funny as hell with a sick sense of humor, Lloyd Banks killing em with the bars, Tony Yayo actually sounding decent on the tracks…no young buck (lol)….yeah this was sheer en-ter-tain-ment!
Highlights: "Elementary" "Soldier" "Fat Bitch" "After my Chedda" and of course "Wanksta"
G-Unit - No Mercy, No Fear (2002)
——————————————————————————————
#4) The Clipse and Re-Up Gang - "We Got it for Cheap vol. 2"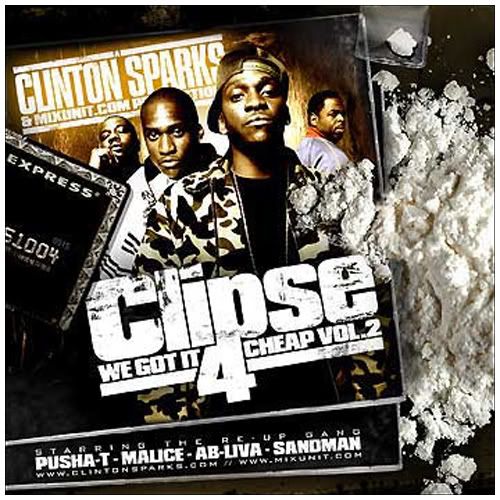 Another Amoeba Music purchase right here…and this was def worth every penny…real lyrics was back when this Gem dropped, I mean this shouldn't even be classified as hip hop, it should be called Motivation music…
Pusha T became my favorite MC on this one, and I don't think it was ONE wack verse spit on this whole tape…and yes I meant TAPE! No more needs to be said other than…learn how to Rap: download this tape…
Highlights: "Roll with the Winners", "Daytona 500" "Ultimate Flow" and " Zen"
The Clipse - We Got it for Cheap vol. 2 (2005)
——————————————————————————————
#5) Pac Div - "The Blendtape"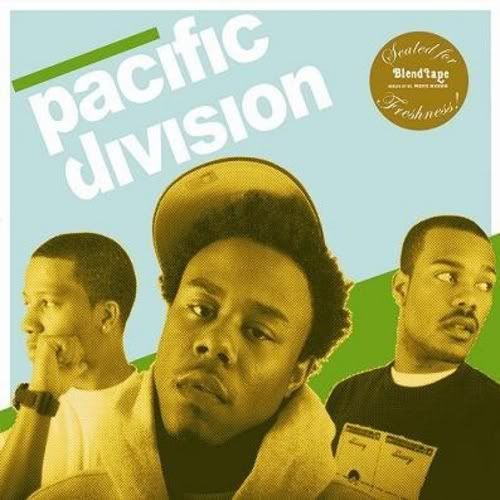 I had to end this post off with the tape that, in my opinion, set it off for the resurgence that Los Angeles and SoCal has been experiencing the last few years. First time I saw these cats was at a show in LMU around 05 or 06 I think (too much weed lol), and bottom line, they ripped it…

So I ended up copping the tape while in the old HipHop West store and needless to say, it stayed in my CD Changer for a looooong time! So props to the homies, cause the honors are well-deserved…besides, this tape goes up for having
"Act like you Chillin"
alone!
Highlights:
"Act like you Chillin" "How We Chill" "Definition" "Nasty"
and
"Bang it"
Pac Div - The Blendtape (2006)
——————————————————————————————
Honorable Mention: U-N-I "Fried Chicken & Watermelon", Diplomats - "Diplomats vol. 1", Dirty Harry and DJ Vlad - "Notorious B.I.G. Rap Phenomenon", Snoop Dogg - "Welcome to the House vol. 1", Lil Wayne - "Dedication vol. 2", Curren$y and Wiz Khalifa - "How Fly", Bishop Lamont x Black Milk - "Caltriot",
That wraps up our first installment of The FAB 5, love it or Hate it, it will be back next week! This is the Prez signing off!